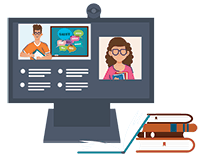 Minimum 1½ hours each lesson.
Please allow at least 1 week to secure an instructor.
Customize your schedule

Learn at your own pace

Tailored for your learning style

In-Person or Online options
If you learn better in a one-on-one setting, have a tough work schedule, specific learning goals, or just need to work at a faster pace than would be possible in a group setting, then private classes are the right choice for you.
​
Fast track your way to fluency with detailed lesson plans that will give your brain a challenging workout.
​
Minimum lesson package is 9 hours. Or choose a larger package: 18, 27, or 36 hours and get a bulk discount!
Private $65/hr In-Person (in select locations)
Semi-Private $75/hr In-Person (in select locations)
* Rates do not include textbook.
Textbook options will be discussed with your instructor.
Stuck at a level? Burnt out from all the self-study? Not sure how to become bilingual quickly?
Take control of your language learning and get what you want from your classes every single time.
Private lessons are the fast track to improvement, not just an alternative style to group. 1 on 1 lessons are guaranteed to get you fluent faster because only private lessons can be tailored exactly to that special goal you're trying to achieve and will take you to the next level. Personalized language lessons are perfect for anyone motivated to increase their fluency level through building confidence speaking.

Do you want the turbo boost setting on your learning curve? Face to face classes in our private language center in Indianapolis provide complete immersion in a comfortable setting. Online teachers are also available from the convenience of your home, using quality audio & video platforms for seamless instruction.
Once we receive your enrollment & based on your availability, we will assign one of our highly skilled language instructors within a week. We provide lesson plans for any level and goals. Whether it's for business, communicating with friends and family, studying for proficiency tests, or for pure enjoyment, ILC customizes your 1 on 1 lessons to your needs.